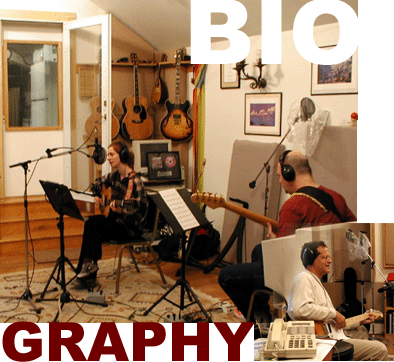 Download Betina Hershey's professional resume.
The Singer-Songwriter Bio

Musical Style: Folk/Pop (jazzy, bluesy, moody, bouncy, caberet)

Musical Influences: Joni Mitchell, Bonnie Rait, Janis Ian, Tori Amos, Shawn Colvin, Paula Cole, Susanna McCorkle, Ella Fitzgerald

Recordings: Wish I Could Stay...
with excellent NYC musicians

Band: Lately she is writing a musical for children instead of working with her band. When last seen with a band, she was playing with Mikey Middlesdorf on drums, Mark Pavlica on bass, and Jon Battisti on jazz guitar. Sometimes Ira Squeezebox on accordian. She still plays solo on request.

Gigs: the Bottom Line, the Baggott Inn, the BMW (before it moved to Brooklyn), the Orange Bear, the B3, the C-Note, Sun Music Co. In San Francisco: the Lost and Found, the Bazaar Cafe.

Fans: Betina has a growing mailing list and fans in NYC, as well as San Francisco, and around the country.

Special: She is a poet who writes songs with clear, quirky images that grab the listening audience and intrigue them.... along with the comfortable, strong stage presence she developed from years of performing in theatre and dance. A classically trained singer and jazz-trained guitarist, she has a unique sound that fits into the female singer/songwriter market of today: Joni Mitchell-esque, natural, lilting, witty.

She is a partner dancer, having been a principle dancer in "Mona Lisa Smile" and "Enchanted", co-choreographed and performed Argentine Tango, Waltz, Foxtrot and Argentine Waltz at the International House in NYC, and performed the Lindy Feature with Mark Eckstein in "Swing, The Musical" at Downtown Cabaret Theater.